Due to Covid-19 restrictions, please confirm events are happening with organizers before attending.  
TN - JERSEY GIANTS
by VERONICA
(CRUMP, TN)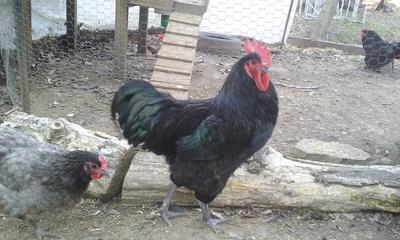 Jersey Giant hatching eggs available. We will hatch to order chicks as well, straight run. Excellent show quality line of LARGE BIRDS. NPIP

We have two pens, a black male over blue females and a solid black pen. You will receive a mix of 12+ hatching eggs from these pens. $77.50 for 12 eggs...includes shipping. Chicks are $15 each, straight run, min order is 8. Paypal or mailed personal checks accepted. Eggs are not shipped on Thursday or Friday, to ensure they are not held up over the weekend at the post office.

See more photos on facebook at Chick N Stuff. We are located at 430 Crump Landing Road, Crump, TN 38327 (mail to: PO Box 87, Adamsville, TN 38310).

Our original breeding stock was from Maria Hall and Dale Fisher. Birds are big and healthy.

msvcampbell@aol.com
Do you have birds to sell too? Click here to return to List Your Bird Here! and complete the form to submit your listing for review.
What can we help you find? Search the website:

Note: Did you subscribe but did not receive a newsletter in your inbox? Search your Spam or Promotions Tab so you don't miss a single issue!  
I have some nice N Y flying flights and flying baldies for sale. Contact Sal at 516-672-8122

I am selling rare colored muscovy ducks. The colors are lavender, white, black, and various shades of improved lavender loony. You can reach me at davethebrave0007@gmail.com

2 yr old silver Bahama pintail ducks. Contact Susan at : justducky61@yahoo.com