Welcome to all of you, both new and existing subscribers. It has been another busy month. We have added a whopping 46 new swaps and 7 new shows this month! We are learning the sheer magnitude of the task we have taken on as the months pass and we are thankful for your encouragement and help as we make this service available to you, to the best of our ability. We have nearly 600 events listed and have been pleased to welcome nearly 12,000 unique visitors to the site last month!
We appreciate all of you who have taken advantage of the hotel links on the show pages. We have heard from many of you that you have found lower rates than you ever have before by using them and it helps us out as well since we receive a small commission for your booked stays. Don't forget you can also support us without spending any extra money by using the Amazon links on our Recommended Products page to make any Amazon purchases you need to make. They don't need to be purchases of the products on the page, any purchase will help, so thanks! You could even bookmark the link for easy access!
We are pleased to be accepting pre-orders for our new and improved bumper sticker. The cool thing about this, besides the sharp, new design, is that this is an ultra sticky but completely removable bumper sticker! Now you can enjoy the sticker without the concern how how to remove it when you sell your car. It sticks to anything: glass, bumper, plastic, paint. Purchase it at our Homepage or on our Recommended Products page. They will be available this month.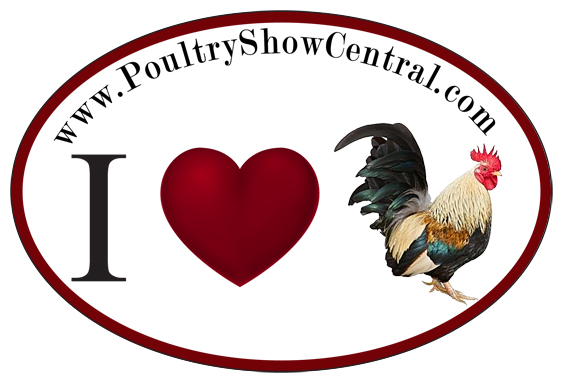 There are 20 new Avian Bowl Questions have been posted for our Juniors (and for any of you wanting to test your knowledge).
New Shows & Events and dates added to the website:
-Wild West Roundup on March 30, 2013
-Leftovers 4-H Poultry Club Show & Chick Days on March 30, 2013
-Southern New England 4-H Poultry Show on April 6, 2013
-Ocean County 4-H Poultry Show on April 6, 2013
-Peckin' Pals Spring Invitational Show on May 11, 2013
-Wild West Serama Classic on June 8, 2013
-National Young Bird Show on October 26, 2013
-Too many swaps to list!
Changes in show dates, either changed by show or correcting the website:
-Southern Ohio Poultry Association Swap Meets - April 13-14, 2013, June 1-2, and October 12-13 NOT May 25-26 and Contact information has changed.
-Carolina Chickenstock - Dated changed to May 18, 2013 NOT May 11
-Waverly Iowa Exotic Bird and Animal Swap has had a Change in Location to Antique Acres in Cedar Falls
We love hearing from you. Any comments, new information and especially any corrections are welcome!
Your fellow fanciers,
Kevin, Valerie and Kara Miller contact@poultryshowcentral.com