I hope you all have been enjoying the warmer weather and green grass as much as we have. We are preparing for the summer months by adding many more APA/ABA Sanctioned fairs to our list. Fairs are a great place to earn premium money and a fun way to pass the time until the fall show season. While we have listed a few fairs that are not sanctioned, we will be focusing on the ones that are. We have added 23 shows and fairs this month! Just for fun, we're going to keep a running total of the shows and swaps we have in our database on our homepage. You'll be surprised how many there are out there! I know we have been.
It has been another record-breaking month with just under 15,000 unique visitors this month. If you like to see stats like I do, (I was a math major, I can't help it) you can see them on our Advertisers page(CLICK HERE). While you're there, consider a breeder directory ad or if you have a blog or business that would be of interest to poultry fanciers, I'd love to talk with you.
We did some reorganizing and have a new Recommended Books page with tons of great poultry showing and raising books you can browse and buy. Find some Summer Reading here!
There are 20 new Trivia Questions posted on the website. We're done with Avian Bowl questions for the year so we're back to questions my 9-year-old comes up with. She loves the chance to try to stump you. You may be surprised!
We are excited to finally have our new and improved bumper stickers available. The cool thing about them, besides the sharp, new design, is that this is an ultra sticky but completely removable bumper sticker! Now you can enjoy the sticker without the concern how how to remove it when you sell your car. It sticks to anything: glass, bumper, plastic, paint. Purchase it at our Homepage or on our Recommended Products page.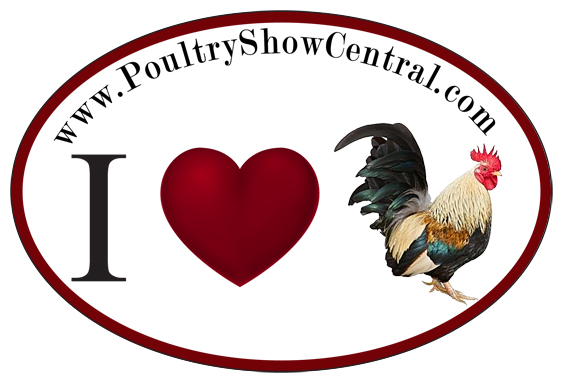 New Shows & Events added to the website:
-Salinas Valley Fair May 16-19, 2013
-Austin Bluebonnet Egg Show June 1, 2013
-Mid Valley Poultry Fanciers' Poultry Fun Day June 8, 2013
-San Diego Co. Fair June 8-July 4, 2013
-San Joaquin County Fair June 12-16, 2013
-Amador County Fair July 25-28, 2013
-Fredericksburg Agricultural Show July 26-August 4, 2013
-Bremer County Fair July 28-August 3, 2013
-Orange County Fair July 30-August 4, 2013
-McHenry County Fair July 31-August 3, 2013
-Del Norte County Fair August 1-4, 2013
-Jo Davies County Fair August 1-5, 2013
-Tanana Valley State Fair August 2-11, 2013
-San Juan County Fair August 5-10, 2013
-Erie County Fair August 7-18, 2013
-Inter-State Fair & Rodeo August 9-17, 2013
-Humboldt County Fair August 14-25, 2013
-Roosevelt County Fair August 20-25, 2013
-New York State Fair August 22-September 2, 2013
-Nebraska State Fair August 23-September 2, 2013
-Eastern Idaho State Fair August 31-September 7, 2013
-Chattahoochee Valley Poultry Association All Game Classic November 9, 2013
-Cloverdale Citrus Fair February 14-17, 2014
Changes in show dates, either changed by show or correcting the website:
-For once, we don't have any to list! (But please don't hesitate to let us know if you find a bad link, email, phone number or just plain-old wrong information. The heads-up is always received with much appreciation!)
We love hearing from you. Any comments, new information and especially any corrections are welcome!
Your fellow fanciers,
Kevin, Valerie and Kara Miller