2012 Yankee Fall Classic
by Michelle Sepiol
(Wellsboro, PA)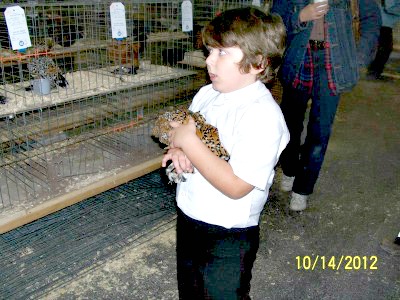 Dylan Dingman, age 8, Gaines, PA with his showmanship bird
The Yankee is held in the Poultry Building at the Syracuse Fair Grounds. This is a great show to attend. However....dress in warm layers. The building is a grand old Victorian building and spring or fall it can feel damp and cold. The winds whip in off the lake, so again, dress accordingly.
Do you have birds to sell too? Click here to return to Show Results and complete the form to submit your listing for review.
What can we help you find? Search the website:

I am looking to acquire a pair of Swans to put on a small chain of lakes in Central Florida. No Gators here. I can be reached at dsasplin@gmail.com

East Indie Ducklings hatched April 26-27 and May 7-8, 2022, will be available for local pickup only by mid July. Their parents are purebred Black East

I am hatching show quality black Orpington chicks for $10 a piece. They are from Sarah Batz line. You can text or call me at (317) 306-0152.