Due to Covid-19 restrictions, please confirm events are happening with organizers before attending.  
2012 Yankee Fall Classic
by Michelle Sepiol
(Wellsboro, PA)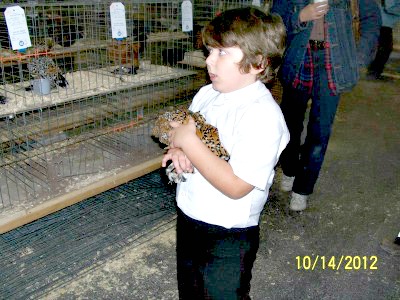 Dylan Dingman, age 8, Gaines, PA with his showmanship bird
The Yankee is held in the Poultry Building at the Syracuse Fair Grounds. This is a great show to attend. However....dress in warm layers. The building is a grand old Victorian building and spring or fall it can feel damp and cold. The winds whip in off the lake, so again, dress accordingly.
Do you have birds to sell too? Click here to return to Show Results and complete the form to submit your listing for review.
What can we help you find? Search the website:

Note: Did you subscribe but did not receive a newsletter in your inbox? Search your Spam or Promotions Tab so you don't miss a single issue!  
Information on the Pensacola Poultry Club Show

This pair was hatched the first week of December of 2020,mating age now $200 OBO Both are part of my american x SRi-6 bloodline Showing good potential

I am looking to rehome a black frizzle rooster. I reside in the village where we shouldn't have roosters. I am hoping to find him a good home where he