How to Fill Out a Poultry Show Entry Form


Are you just getting started and trying to make sense of all the terms on the entry form?
The first time you want to enter a poultry show or fair, the entry form can be daunting!  Once you've requested the premium list and entry form from the show secretary, it's time to fill it out.  What do all those terms mean, anyway?  Hopefully, we can be of help.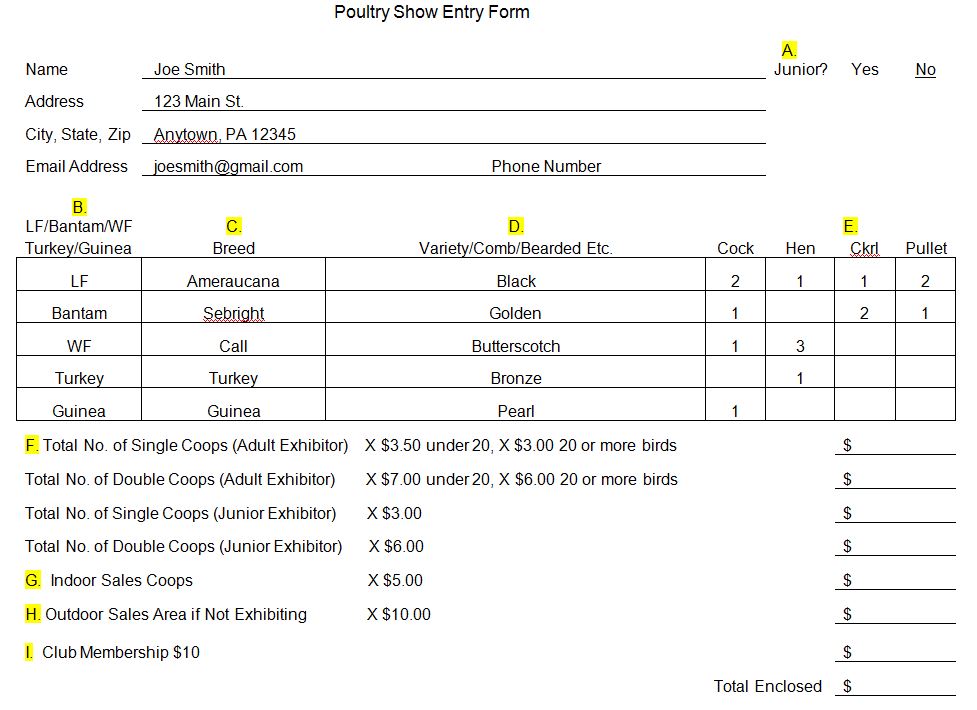 Cracking the Entry Form Code:
A.  Are you a Junior?  Juniors are 18 years of age and younger. They compete against other Juniors only and are eligible only for Junior awards unless it is a show that judges every bird in the Open show and chooses the top Juniors based on the Open judging.   If you wish to be eligible for APA/ABA points, you will need to compete in the open show and not as a junior.  Some shows have separate Junior and Open entry forms so you can choose to enter some birds in each.

B.  LF - Large Fowl - This is a standard sized chicken.
     Bantam - This is a small breed chicken.  Some breeds are true bantams and don't have a large fowl counterpart, but usually this is a smaller version of a standard, large fowl chicken.  You can usually tell if your bird is a bantam if their eggs are significantly smaller than a standard egg.
    WF - Waterfowl - This includes all ducks and geese.
C.  Breed - By definition, an established group of individual poultry possessing similar characteristics, and when mated together produce offspring with those same characteristics.   (Example: Ameraucana, Cochin, Silkie, Call, etc.)  This can get confusing when dealing with Guineas and Turkeys because they there are considered all the same breed, with different varieties.
D.  Variety - By definition, a sub-division of a breed.  Differentiating characteristics that include plumage color (most common), comb type and/or presence of beard and muffs. (Example: White Bearded Silkie, Dark Brown Rosecomb Leghorn, Butterscotch Call Duck, Bronze Turkey, Pearl Guinea)  This can get confusing when classifying turkeys since their varieties are often thought of more as breeds.  If you aren't certain about the varieties for your breeds, you can find them in the or American Standard of Perfection or Bantam Standard or on the pages of our Breeder Directory for each breed. 

E. Cock - Male poultry one year old or more.
    Cockerel - Male poultry less than one year old.
    Hen - Female poultry one year old or more.
    Pullet - Female poultry less than one year old.
F. Single Coop - A standard sized coop, either large fowl or bantam-sized. 
    Double Coop - For extra large roosters or long-tailed breeds that would benefit from double the space.  Be sure to note somewhere which breed you would like in the double coop so the show secretary doesn't have to guess.
G.  Indoor Sales Coop - A standard-sized show cage in the sale area where you can sell any extra breeding stock.  Usually you cannot fit more than 1-2 birds in a sales coop unless the birds are young or small bantams. 
H.  Outdoor Sales Coop - This allows for "tailgate" sales where you usually have to bring your own cages and sell from the back of your car or in an area outside the indoor sales area. 
I.  Club Membership - Supporting your local poultry club by becoming a member gives you the inside information on the local meetings and gives you opportunity to contribute to the volunteer needs necessary to pull off the show while supporting the financial needs of the club. Most importantly, you can connect with other local breeders at regular meetings.
*Don't forget to get your entry form in by the deadline and always make a photocopy of the form so you remember who you entered when the week of the show arrives!

    Do you still have questions?  Every form is different so if we missed something, we'll do what we can to help! 

What can we help you find? Search the website:

Large breed Vorwerks. Bloodlines from Germany and Holland. Gorgeous quiet birds. Selling chicks and eggs. Dallas Kauffman Morrison Tennessee. 931-409-8421

I've got too many roosters, need to move a few, breeds as follows: (3) Buff Orpingtons (1) Speckled Sussex (1)Gold Wyandotte (1) Blue Laced Gold Wyandotte

Information on the Middle TN Poultry/Bird/Rabbit Swap