Golden Horseshoe Saddle Club Swap Meet

Knox, Indiana (see map below)
Animals, Farm Produce, Plants, Feed, Supplies & More!

7:00 until 1:00 (central time)
  Selling/Lot fee $10.
Buyers FREE
100+ sellers
For more information:
For current dates and for other Indiana swaps,
Do you have the catalog available for this event?  If so, please send the file to poultryshowcentral@gmail.com so it can be added to the event page for others to download.
P.S.  Do not use this email to request a catalog if it is not listed on the page.  Once we have one, it will be posted.
Are you aware of any corrections to this information? 
Our goal is up-to-date & accurate on Poultry Show Central and we rely on your help!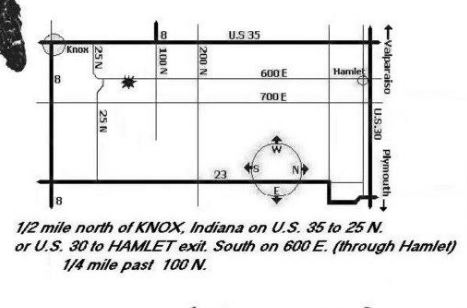 What can we help you find? Search the website:


Sit down with your weekend cup of coffee, open your email, and enjoy an exclusive weekly snapshot of all the current information listed on the website. 
Access links to all the catalogs available with deadlines, the newest events and dates, & enjoy the satisfaction of knowing you'll never miss out on the latest poultry news. 
Free 14 day trial!
Subscribe to the Inside Scoop Weekly Snapshot:
---

If you'd like to receive our free monthly updates of  tips, updates & fun, become a PSC Insider.