Golden Horseshoe Saddle Club Swap Meet
Knox, Indiana (see map below)
Animals, Farm Produce, Plants, Feed, Supplies & More!

7:00 until 1:00 (central time)
  Selling/Lot fee $10.
Buyers FREE
100+ sellers
For more information:
For current dates and for other Indiana swaps,
Please send current catalog files to poultryshowcentral@gmail.com so it can be added to this page.   P.S.  Do not use this email to request a catalog.
Are you aware of any corrections to this information? Our goal is up-to-date & accurate and we rely on your help!  Please let us know!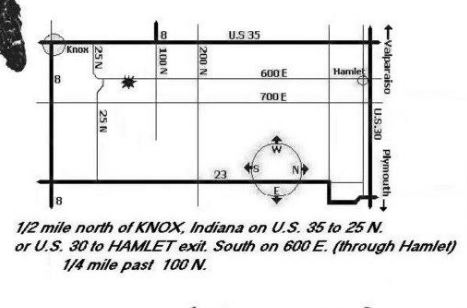 What can we help you find? Search the website:

Hi I am looking for east indie ducks if you have any I could buy please contact me at elodiespears@gmail.com

I have a Giant Silkie Roo that needs to be rehomed. He's white, hand raised, very spoiled. charlirclay@gmail.com

Ayam Cemani Breeding Pairs, pullets, Cockerels and chicks for sale in Ozark Arkansas. Text me for more information. Jan 847.774.5575