Due to Covid-19 restrictions, please confirm events are happening with organizers before attending.  
Malay 
For Sale
Varieties:
Black Breasted Red, Black, White, Spangled, Red Pyle, & Wheaten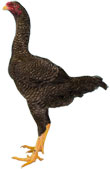 Do you have birds to sell?
Create your breeder listing now! Be sure to include plenty of detail, pictures if possible, and your contact information.
There are Birds for Sale - Find a Breeder:
Click on the links to see the full breeder listing:

MI - Red Pyle and Blue Wheaten Malay Hatching Eggs
Selling Malay hatching eggs. Can ship. Will hatch but must be pick up only. Currently available Red Pyle and Blue Wheaten. Proven breeders. Email levimarychapman2@comcas …
VA - Gamefowl Malay chicken
The chickens are about one year old the hatched last May. I'm asking $130 for each I have male and female for sale. My email is fat.attai@yahoo.com …
Return to the Chickens Directory

Return to the Breeder Directory

What can we help you find? Search the website:

Note: Did you subscribe but did not receive a newsletter in your inbox? Search your Spam or Promotions Tab so you don't miss a single issue!  
Information on the Champion Feed & Pet Supply Flock-tober Swap

Seeking a female Toulouse under a year -willing to travel -located in Nebraska

For Sale- 5 Month Old Bantam Barnevelder/Salmon Faverolle Cross Rooster and 5 Month Old Bantam Barnevelder Rooster. They are very sweet, good and beautiful