Dekalb County Fairgrounds
102 Fairgrounds Rd
Alexandria, TN 37012
*Note: New Location
Monthly, April to October
Middle TN Poultry/Bird/Rabbit Swap FB Page
$20 fee to set up and sell
If just coming to shop it is free
Set up starts at 8:30 AM.
Swap from 9 AM - 1 PM
Pigeons, chickens, ducks, turkey, peacocks, quail. much more. If you have a type of bird you want to bring just message us and we will tell you.
There will be signs up and a parking area. Bathrooms will be available as well as try to have food at each event. 
For more information, contact:

Cristen Bumbalough cristenbumbalough2021@gmail.com
For current date and for a list of other TN swaps and auctions,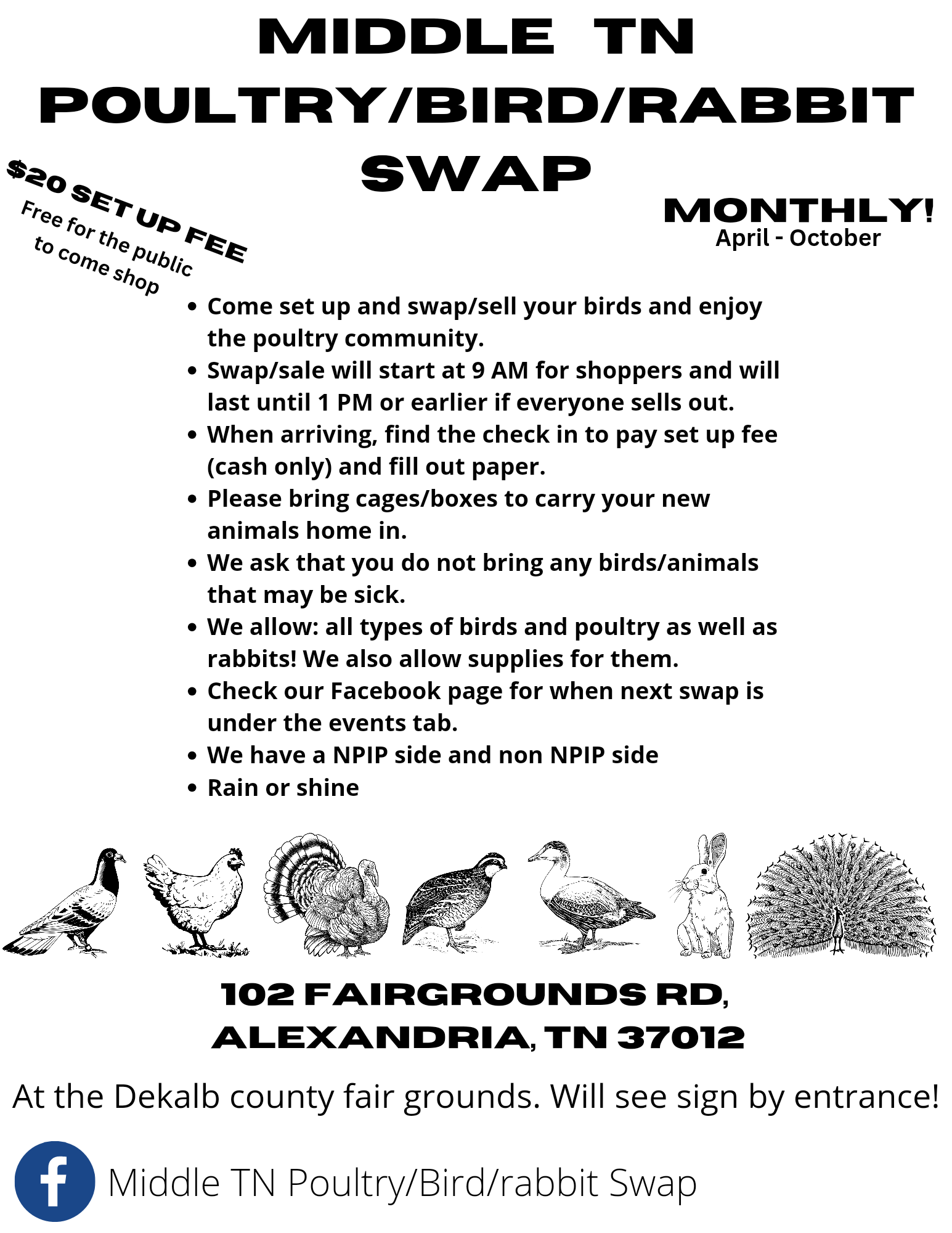 You will need to bring your own canopy's/umbrellas for shade as well as your own tables. we also ask you bring cash to shop and you own carriers for birds if you plan to purchase.

Come set up and swap/sale your birds and enjoy the poultry community.
When arriving check in to pay set up fee (cash only). We do have to sections for NPIP and non NPIP.
We ask that you practice distancing when setting up and that you do not bring any birds that may be sick. Please do not touch anyone's birds without permission!

We do ask when packing up to leave you make sure you take everything back home with you including your trash.
Are you aware of any corrections to this information? 
Our goal is up-to-date & accurate on Poultry Show Central and we rely on your help!