Due to Covid-19 restrictions, please confirm events are happening with organizers before attending.  
CA - Dark Brown Leghorn Bantams
by Deborah Kunic
(Central Coast of California)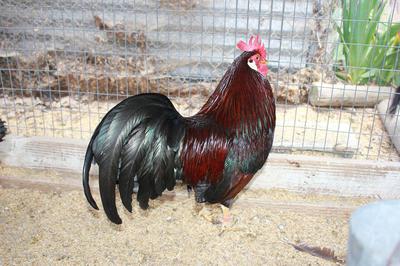 We have SC Dark Brown Leghorn Bantams, started years ago with Beyer and Atwood lines. We sell hatching eggs and have select pairs of adult birds available later in the year. We ship. www.kunicranch.com. Contact: mecatemom@gmail.com.
Do you have birds to sell too? Click here to return to List Your Bird Here! and complete the form to submit your listing for review.
What can we help you find? Search the website:

Note: Did you subscribe but did not receive a newsletter in your inbox? Search your Spam or Promotions Tab so you don't miss a single issue!  
Beaucoup Farm's mission is to help protect endangered livestock, and poultry breeds from extinction through our breeding program, hatching rentals, petting

Hello - I am a biology teacher as well as a duck mom to a pair of very spoiled mandarins that I kept after incubating and hatching them last spring as

Hello, I have 2 light Brahma and 2 Ancona roosters available. All 4 are purebreds, and are 5 months old. If interested please email me at Coreenlopez4@yahoo.com