Due to Covid-19 restrictions, please confirm events are happening with organizers before attending.  
CA - WHITE CHINESE GEESE
by Debbie Kunic
(Central Coast of California)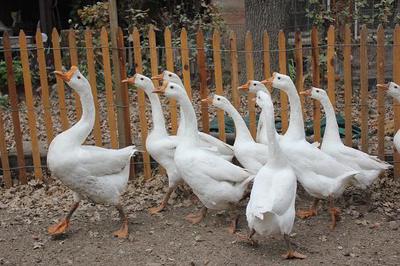 Proud gander out in front.
We have a gaggle of 10 White Chinese geese available. Good productive birds, oldest birds are 2 years (4 of them), offspring were hatched summer 2013. Please visit the "For Sale" page of our website www.kunicranch.com. I can be contacted at mecatemom@gmail.com. Thank you.
What can we help you find? Search the website:

Note: Did you subscribe but did not receive a newsletter in your inbox? Search your Spam or Promotions Tab so you don't miss a single issue!  
I am located outside of atl. I will drive up to an hour. 3 cockerels. 1 is a full exchequer Serama. He is SQ and 7-8 weeks old. He is very tiny. His

In Search Of high quality, breed standard Silver Laced Wyandotte pullets and cockerels. I'm in Texas, but willing to have shipped if breeder will. ritafolsen@gmail.com

For Sale- 8 Month Old Bantam Barnevelder Rooster. He is a very sweet, good and beautiful boy who is looking to go to a good home. Preferably an acreage/farm,