Due to Covid-19 restrictions, please confirm events are happening before attending.  
GA- Silkie eggs when available , white silkie eggs
by Kerry Chastain
(Chatsworth , Georgia)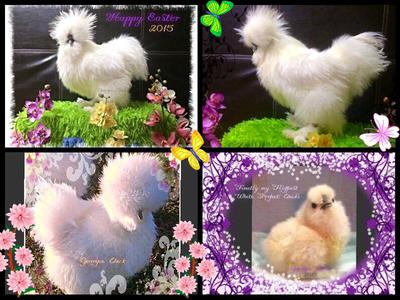 I sell silkie hatching eggs! No birds available at this time. I have the whites eggs with a frizzle gene. Whites are currently laying. You can reach me on Facebook under Georgia Chick. I also have other colors, just laying at different times:> have a Great Day!
What can we help you find? Search the website:

Note: Did you subscribe but did not receive a newsletter in your inbox? Search your Spam or Promotions Tab so you don't miss a single issue!  
I currently have a pair of young Golden Sebright's that I am looking to find a new home for. They are both around 10-12 weeks of age at best estimate.

Show quality black and blue Orpington's for sale from NPIP flock. Winnings include Champion English classes and Super Grand Champion. These birds have

Information on the Apple Capital Bantam Club Show