Due to Covid-19 restrictions, please confirm events are happening with organizers before attending.  
Great Show! - May 19, 2012
by Valerie
(Dillsburg, PA)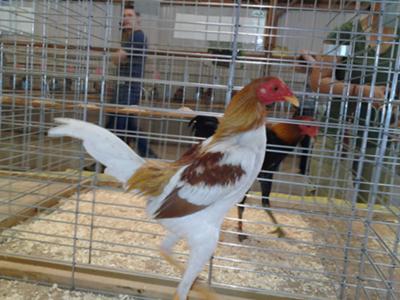 Champion of Show - Red Pyle Modern Game
This was a friendly show with a nice area for sale birds, yummy food, and great prizes for the junior showmanship competition.
Do you have birds to sell too? Click here to return to Show Results and complete the form to submit your listing for review.
What can we help you find? Search the website:

Note: Did you subscribe but did not receive a newsletter in your inbox? Search your Spam or Promotions Tab so you don't miss a single issue!  
If these predators find their way into your coop, they can steal eggs, frighten your hens, and even eat baby chicks.

I am located outside of atl. I will drive up to an hour. 3 cockerels. 1 is a full exchequer Serama. He is SQ and 7-8 weeks old. He is very tiny. His

In Search Of high quality, breed standard Silver Laced Wyandotte pullets and cockerels. I'm in Texas, but willing to have shipped if breeder will. ritafolsen@gmail.com