Due to Covid-19 restrictions, please confirm events are happening with organizers before attending.  
IA - Deathlayers, Silkies, Sebrights, Polish, Cochin, and more. Grinnell, Iowa
by Uncle Bill's Farm
(Grinnell, Iowa)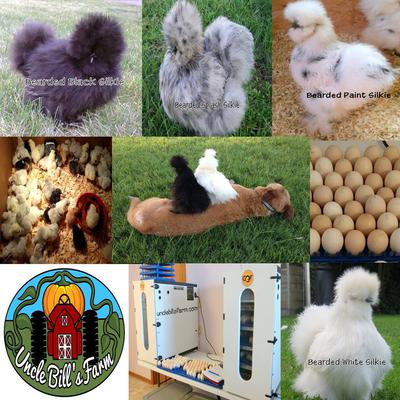 Over 30 years, we've been selectively breeding our exhibition quality birds to give our customers the very best birds available. German Deathlayers, silkies (of all ASBC SOP colors,) silver laced sebrights, gold laced sebrights, white crested black polish bantams, bantam cochin, large fowl cochin, peacock, Dutch bantams, porcelain D'Uccle and more. You can reach our farm, Uncle Bill's Farm in Grinnell, Iowa by emailing us at unclebillsfarm@hotmail.com or facebook.com/unclebillsfarmiowa or unclebillsfarm.com
Do you have birds to sell too? Click here to return to List Your Bird Here! and complete the form to submit your listing for review.
What can we help you find? Search the website:

Note: Did you subscribe but did not receive a newsletter in your inbox? Search your Spam or Promotions Tab so you don't miss a single issue!  
Looking for cochin chicks in South Plains area of Texas. rrfarmstexas@gmail.com

I am looking to buy 2 baby hen muscovy. Prefer not to have black or black/white. Located by Galesville/Trempealeau. ourfamilydream@gmail.com thanks!

Hello, my name is Jannene. I am a small breeder of Silkie Bantams, White Crested Polish Bantams, and Showgirl Silkies, in Raynham Massachusetts Right