Due to Covid-19 restrictions, please confirm events are happening with organizers before attending.  
IN - Blue Fawn & Pastel Rouen Ducks
by Jean Doerflein
(Laurel, IN 47024)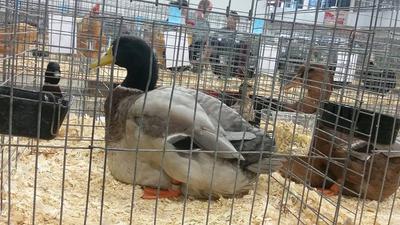 Blue Fawn Rouen male
I began my work on creating blue fawn and pastel Rouens in 2012. I've bred and shown gray Rouens for about 15 years. After many generations I've finally set my blue fawn and pastel Rouen lines and have started to offer them for sale to others too. My next steps are to get both colors recognized and accepted into the APA Standard. For more detailed information about my blue fawn and pastel Rouens please see my website.
I sell and ship hatching eggs and young started birds. I do not ship ducklings. Hatching eggs are available from about April until June. Young started birds are available in the fall starting around October. To be placed on my wait list please visit my website for an Order Form. Price lists are also available on my website as well as a lot of other useful information about my farm. Please call, text, or email me for more information. Email is the best way to reach me, jndoerfl.dcpp@yahoo.com. My cell phone is the second best, 765-265-4194. You can also visit my website at www.duckcreekpoultryplace.weebly.com.We have a farm Facebook page called Duck Creek Poultry Place as well with tons of pictures of the birds.
Do you have birds to sell too? Click here to return to List Your Bird Here! and complete the form to submit your listing for review.
What can we help you find? Search the website:

Note: Did you subscribe but did not receive a newsletter in your inbox? Search your Spam or Promotions Tab so you don't miss a single issue!  
I have multiple button quail available now with more colors available soon im in Oregon ohio nearby toledo ohio You can contact me via text or call at

Pastel Call Ducks By The Pair. $40.00 for The Set. Contact me at GaryFinch1945@yahoo.com. Contact me at GaryFinch1945@yahoo.com.

Egyptian goslings for sale. 2020 hatch. Raise babies every year. Asking 85 per gosling and can set up unrelated pairs. Have two pair of geese I breed from.