Due to Covid-19 restrictions, please confirm events are happening with organizers before attending.  
IN - Gray Rouen Ducks
by Jean Doerflein
(Laurel, IN)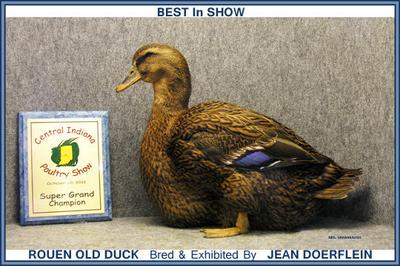 I've been raising and showing Rouens for about 15 years. My line of Rouens consistently win top awards throughout the country. I sell and ship hatching eggs and young started birds. I do not ship ducklings. Hatching eggs are available from about April until June. Young started birds are available in the fall starting around October. To be placed on my wait list please visit my website for an Order Form. Price lists are also available on my website as well as a lot of other useful information about my farm. Please call, text, or email me for more information. Email is the best way to reach me, jndoerfl.dcpp@yahoo.com. My cell phone is the second best, 765-265-4194. You can also visit my website at www.duckcreekpoultryplace.weebly.com.We have a farm Facebook page called Duck Creek Poultry Place as well with tons of pictures of the birds.
Do you have birds to sell too? Click here to return to List Your Bird Here! and complete the form to submit your listing for review.
What can we help you find? Search the website:

Note: Did you subscribe but did not receive a newsletter in your inbox? Search your Spam or Promotions Tab so you don't miss a single issue!  
If these predators find their way into your coop, they can steal eggs, frighten your hens, and even eat baby chicks.

I am located outside of atl. I will drive up to an hour. 3 cockerels. 1 is a full exchequer Serama. He is SQ and 7-8 weeks old. He is very tiny. His

In Search Of high quality, breed standard Silver Laced Wyandotte pullets and cockerels. I'm in Texas, but willing to have shipped if breeder will. ritafolsen@gmail.com