Due to Covid-19 restrictions, please confirm events are happening with organizers before attending.  

IN - Silver Welsh Harlequin Ducks
by Jake Wilson - Wilson's Waterfowl and Poultry Co.
(Kempton, IN)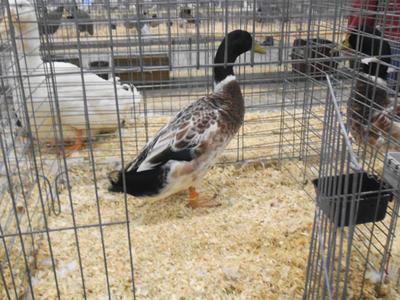 I sell hatching eggs and ducklings in the spring and young birds in the fall. Shipping is available for hatching eggs only. Pick up at farm or poultry shows available for ducklings and young birds. My cell phone is the best way to reach me, 317-379-8358. You can also visit my farm facebook page at www.facebook.com/wilsons.waterfowl.and.poultry.co.
Do you have birds to sell too? Click here to return to List Your Bird Here! and complete the form to submit your listing for review.
What can we help you find? Search the website:

Note: Did you subscribe but did not receive a newsletter in your inbox? Search your Spam or Promotions Tab so you don't miss a single issue!  
We sell traditional serama, celadon, button, and butler bobwhite quail, Silver, Pied, & red chukar partridges, and some peafowl. Prices vary between

Almost a year old breeding trio of Lamonas. I bought them as a breeding project but plans changed. Local pickup only in Klamath Falls Oregon. Email Orrryan05@gmail.com.

Pekin Ducklings Straight Run Various ages days/weeks $10 Henry County, Ga If interested please text 678-449-9520