Due to Covid-19 restrictions, please confirm events are happening with organizers before attending.  
LA - BARRED HOLLANDS
by Suzanne Holland
(Saint Francisville, Louisiana)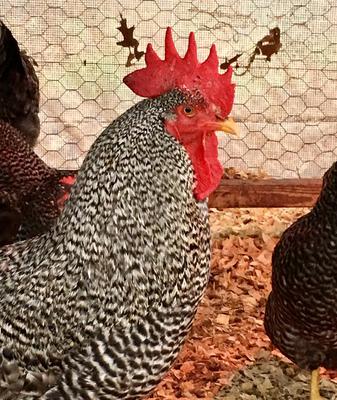 Holland Farm right in the hill country of Louisiana, breeding a superior flock of Barred Hollands.

We have been working steadfastly over the past several years to bring this incredible rare breed back from the brink of obscurity. Our flock is thriving. Every hen is robust and laying lovely white eggs, as called for in the Standard.
All hens and roosters in our breeding program have the required 6 point comb, red ears, yellow beak and legs.

We have and will continue to maintain a rigorous selective breeding program and nutrition plan.

Holland Farm is part of the NPIP program and we adhere to heathly practices and bio-security to insure the health of our flock.

Please take time to visit our personal farm page on Facebook at: https://www.facebook.com/Barredholland/ or visit our Instagram account at: https://instagram.com/barredhollandfarm

And consider joining our membership group at : https://www.facebook.com/groups/barredhollandbreed/

You can also reach us via email at: hollandfarm10655@gmail.com
And via text: 225-247-9012
Do you have birds to sell too? Click here to return to List Your Bird Here! and complete the form to submit your listing for review.
What can we help you find? Search the website:

Note: Did you subscribe but did not receive a newsletter in your inbox? Search your Spam or Promotions Tab so you don't miss a single issue!  
We have a few different types of Coturnix quail! Coturnix are excellent layers, excellent meat birds and are very beautiful. For more information go to

Contact: Two48 9four9 seven8zero0 Milford, Michigan Young Cockerel/Rooster Satin Partridge Silkie 5:6 months old Father is an amazing rooster and

Information on the Champion Feed & Pet Supply Flock-tober Swap