Due to Covid-19 restrictions, please confirm events are happening with organizers before attending.  
TX- Speckled Sussex
by Ernie Haire
(Arp, Texas)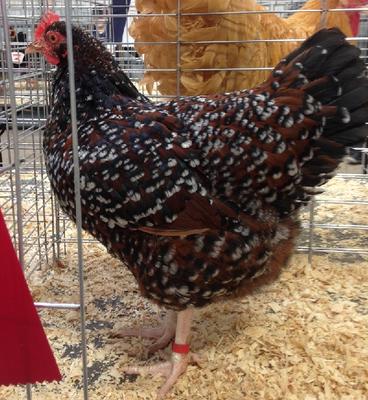 Speckled Sussex pullet, Champion English
We have added Speckled Sussex to our breeding program here at Poultry 2XL. We have been blessed to be able to acquire a beautiful set of Show Quality Speckled Sussex with some of the best genetics in the country.

We sell and ship hatching eggs when the females are working with us. We also offer and ship day old chicks in straight run lots when available. During show season, we can deliver hatching eggs and/or started birds to the shows that we attend.

For more information please visit our website at http://marans2xl.com/.

Thanks,
Ernie Haire
Poultry 2XL
Arp, Texas,
What can we help you find? Search the website:

Note: Did you subscribe but did not receive a newsletter in your inbox? Search your Spam or Promotions Tab so you don't miss a single issue!  
Looking for cochin chicks in South Plains area of Texas. rrfarmstexas@gmail.com

I am looking to buy 2 baby hen muscovy. Prefer not to have black or black/white. Located by Galesville/Trempealeau. ourfamilydream@gmail.com thanks!

Hello, my name is Jannene. I am a small breeder of Silkie Bantams, White Crested Polish Bantams, and Showgirl Silkies, in Raynham Massachusetts Right