Due to Covid-19 restrictions, please confirm events are happening with organizers before attending.  
WA - Icelandics
by Racie and Ethan McKee
(Brewster, WA, USA)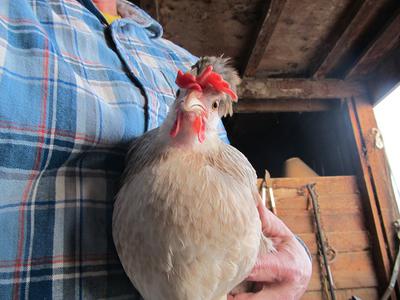 Icelandic hen
Icelandic hatching eggs, chicks, and sometimes juveniles and roosters. Icelandics are a landrace breed with an endless variety of color, and combs that can be straight or rose. Our breeding stock is from David Grote, Harvey Ussery, Black Earth Farm, and Ravenwood Farm and Ranch. All four of the import lines are represented in our flock. The eggs are medium to large white to slightly off white. They have been consistent layers for us, even in the winter months. We are NPIP. For more information email us at rmckee@omaksd.org or call 509-429-2431.
Do you have birds to sell too? Click here to return to List Your Bird Here! and complete the form to submit your listing for review.
What can we help you find? Search the website:

Note: Did you subscribe but did not receive a newsletter in your inbox? Search your Spam or Promotions Tab so you don't miss a single issue!  
Accepting preorders for Giant Brahma chicks. Colors available: Blue Buff, Splash, Lemon Pyle, BOS, Blue Partridge. PU only, no shipping. Clinton Mo. Text:

All white muscovy ducks available in Humboldt county California. We have adult birds and baby birds available. The best option is to pre-order what you

Adult American Buff Geese for sale Males and Females. 1 yr old- $75 each. unsexed chicks available for pre-order $30 each. Available for local pickup or