Crevecoeurs
For Sale

Varieties:
Black


Do you have birds to sell?
Create your breeder listing now! Be sure to include plenty of detail, pictures if possible, and your contact information.
There are Birds for Sale - Find a Breeder:
Click on the links to see the full breeder listing: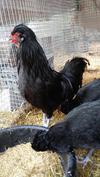 MO - Crevecoeur Hatching Eggs & Chicks
Looking to share our good show-quality Crevecoeurs with breeders who will appreciate and use them. Right now we have hatching eggs available, and a limited …
CA - Creveceours
Silver, gold and buff laced , black crested white, tolbunt, frizzled, white crested black and blue, red crested red. I also have some sultans, creveceours, …
Return to the Chickens Directory

Return to the Breeder Directory

What can we help you find? Search the website:


If you'd like to receive monthly updates of new poultry shows and swap meets we've found, become a PSC Insider.