MO - Crevecoeur Hatching Eggs & Chicks
by Connie Abeln
(MO)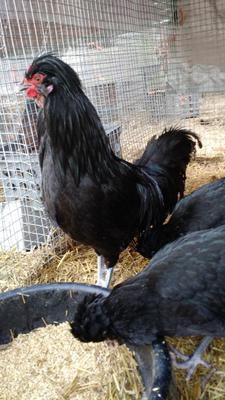 Looking to share our good show-quality Crevecoeurs with breeders who will appreciate and use them. Right now we have hatching eggs available, and a limited number of adults, pullets, and cockerels.

Our Crevecoeurs are standard-size, all-purpose, outdoor birds, hardy in cold and heat. Originally raised in France as fine meat birds, Crevecoeurs are good layers of medium-size, creamy white eggs. Our flock is NPIP certified and AI-free.

We show our Crevecoeurs regularly at state fairs and poultry shows, to make sure our stock stays consistent with the American Poultry Association standards. Our most recent show was the Heartland Classic Poultry Show in Anna, Illinois, on March 10, 2018, where our Crevecoeurs earned best of breed and best of variety awards.

Hatching eggs are $30/dozen.

Our prices for Crevecoeurs are:
If shown and won, $30/bird
If show quality but not yet shown, $25/bird
If not show quality but almost perfect, $20/bird
If a good Crevecoeur type, $15/bird

Contact us at connieabeln@gmail.com and we will coordinate a good time and place to meet for delivering hatching eggs or birds.
Note: We do not ship chicks.
Do you have birds to sell too? Click here to return to List Your Bird Here! and complete the form to submit your listing for review.