Due to Covid-19 restrictions, please confirm events are happening with organizers before attending.  
Arkansas - Large Fowl Wyandottes of various colors
by Linda McGrath
(Beebe, AR, USA)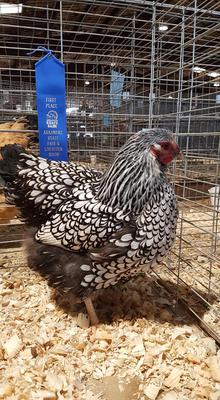 2018 SLW pullet
Arkansas - Dragonfly Farm specializes in quality, Large-Fowl Wyandottes in various colors.
Silver-laced, Gold-laced, Blue-laced Red, Black, Blue, Columbian, Lavender and Barred. Chicks, hatching eggs and started adults available seasonally. To find out more or to be put on our list, check out DragonflyFarmAR on Facebook or call (501) 258-5123 and leave a message.
What can we help you find? Search the website:

Note: Did you subscribe but did not receive a newsletter in your inbox? Search your Spam or Promotions Tab so you don't miss a single issue!  
I am located outside of atl. I will drive up to an hour. 3 cockerels. 1 is a full exchequer Serama. He is SQ and 7-8 weeks old. He is very tiny. His

In Search Of high quality, breed standard Silver Laced Wyandotte pullets and cockerels. I'm in Texas, but willing to have shipped if breeder will. ritafolsen@gmail.com

For Sale- 8 Month Old Bantam Barnevelder Rooster. He is a very sweet, good and beautiful boy who is looking to go to a good home. Preferably an acreage/farm,