Arkansas - Large Fowl Wyandottes of various colors
by Linda McGrath
(Beebe, AR, USA)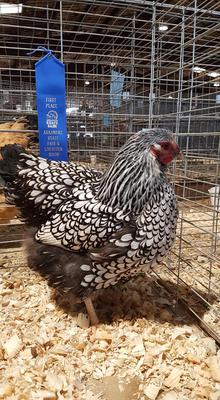 2018 SLW pullet
Arkansas - Dragonfly Farm specializes in quality, Large-Fowl Wyandottes in various colors.
Silver-laced, Gold-laced, Blue-laced Red, Black, Blue, Columbian, Lavender and Barred. Chicks, hatching eggs and started adults available seasonally. To find out more or to be put on our list, check out DragonflyFarmAR on Facebook or call (501) 258-5123 and leave a message.
Do you have birds to sell too? Click here to return to List Your Bird Here! and complete the form to submit your listing for review.