It's showtime! The judges are ready, are your chickens ready?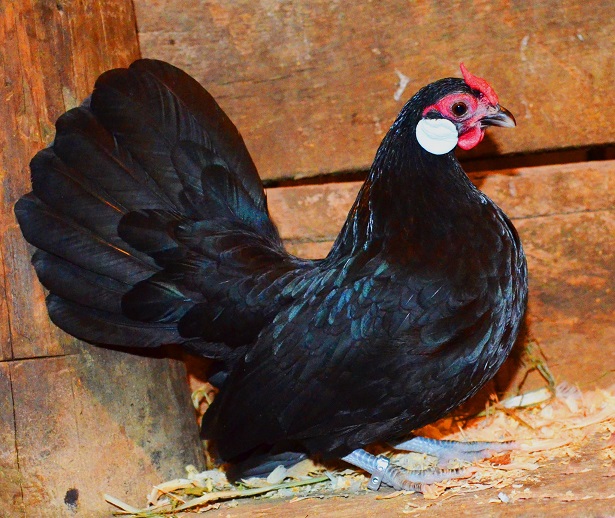 The morning of the show is a flurry of cooping in and grooming. Your birds should be clean but now the final "make-up session" begins. You'll notice a big difference between the birds thrown in from their carriers at the last minute and the ones that really sparkle after some detailed attention from their owners.
We carry our grooming tools in a small plastic bucket with a handle so everything is easily found and it's easy to tote from coop to coop. These are the tools we keep in our grooming bucket:
Baby wipes
Paper towels
Toothbrush
Small comb
Cotton Cloth
Clear nail polish
Spray bottle with water
We have found that grooming is easiest with one person holding the bird and the other grooming. I know it can be done with only one because experienced breeders do it all the time! Get a firm, comfortable grip so you don't lose any chickens down the aisle!
We start with their feet because even with a thick layer of shavings in their carrier, their feet tend to be dirtiest. We use a combination of paper towels, baby wipes a wet magic eraser to get their legs and toes back to the point they were after their bath. If there is any really stubborn dirt, you can use the spray bottle to soften it.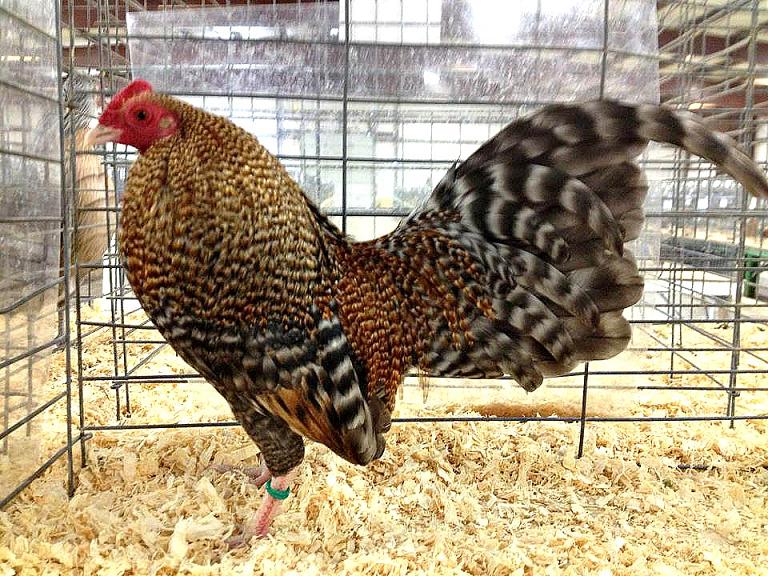 Once they are clean, we use baby oil on their legs to make them shine. We've even been told we could use clear nail polish on their toenails, but it didn't work very well. It would have to be fast-dry polish because otherwise it would just be a mess!
The important thing to remember is that you are enhancing the qualities of your bird, not faking or changing them to look different than they are.

One of the most noticeable things we do during our grooming is to touch up the comb and waddles with VetRx or a combination of baby oil and rubbing alcohol. It really makes the red of the comb pop. Be careful not to get the oil on the feathers.  Using a make-up wedge really helps speed up the process, especially if you have a breed with large combs.  

Next we work on the feathers. If you have a bird with muffs, you'll want to comb out any dirt or food that has gotten into them and then fluff them up nicely. A toothbrush or a small comb works well to do last-minute cleaning.
Shiny feathers are healthy feathers and you want to really make them sparkle! A silk cloth really brings out the shine. The more you wipe, the better they look.


Place them into the coop, head first so you don't break any feathers in the process, and make sure there aren't any misplaced feathers. Your chicken will probably preen and zipper up any separated feathers but if you see any that look messy, you can run your fingers along the feather and zipper them yourself.
Voila, now your bird should shine and dazzle the judges. You're one step closer to champion row. In my opinion, there are few things more stunning than a cleaned and groomed chicken, ready for judging. Now you can mingle while you wait for the results.

How do you get your birds to look their best for the judge?
What's your secret? Are you willing to share it, for the benefit of the fancy? Enlighten us!
Find out how other breeders make their birds sparkle...
Click below to see contributions from other visitors to this page...

What can we help you find? Search the website:

Information on the Association for the Preservation of Gamefowl Show - Gilroy

Information on the Association for the Preservation of Gamefowl Show - Fresno

Find all the Virtual Poultry Shows!